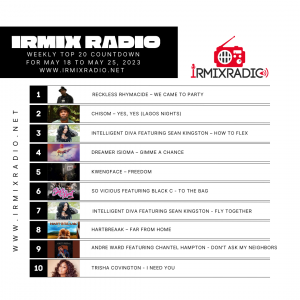 IRMIX Radio Top 20 Countdown Week Ending May 18 2023, #1 to #10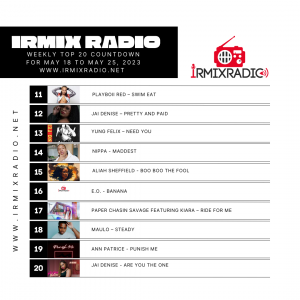 IRMIX Radio Top 20 Countdown Week Ending May 18 2023 11 to 20
DALLAS, TEXAS, UNITED STATES , May 18, 2023/EINPresswire.com/ — IRMIX Radio is now reporting playlists to music tracking agencies for national charting purposes. IRMIX Radio's format is RnB, Hip-Hop, and Dance music. IRMIX Radio is currently accepting songs for airplay with the caveat that any song submitted that is older than 90 days old will not be eligible for charting.
To be considered for IRMIX Radio's top 20 countdown the songs must be less than 90 days old. Please be sure to follow the instructions carefully for submission of your track(s) or it will be rejected. Prior to your track being submitted please be sure to include detailed information. Artist name, track name, album name if applicable, release date, artist social media for tagging, and biography.
Additionally, IRMIX Radio has promotion opportunities available for independent artists, to learn more about the opportunities please visit our website.
1. Reckless Rhymacide – We Came to Party

2. Chisom – Yes, Yes (Lagos Nights)

3. Intelligent Diva – How to Flex

4. Dreamer Isioma – Gimme A Chance

5. Kwengface – Freedom

6. So Vicious Featuring Black C – To the Bag

7. Intelligent Diva – Fly Together

8. HartBreaak – Far From Home

9. Andre Ward Featuring Chantel Hampton – Don't Ask My Neighbors

10. Trisha Covington – I Need You

11. Playboii Red – Swim or Eat

12. Jai Denise – Pretty and Paid

13. Yung Felix – Need You

14. Nippa – Maddest

15. Aliah Sheffield – Boo Boo the Fool

16. E.O. – Banana

17. Paper Chasin' Savage Featuring Kiara – Ride for Me

18. Maulo – Steady

19. Ann Patrice – Punish Me

20. Jai Denise – Are You the One
IRMIX Radio, LLC
IRMIX Radio
+1 313-540-8581
email us here
Visit us on social media:
Facebook
Twitter
LinkedIn
Instagram
YouTube
TikTok
IRMIX Radio TOP 20 Indie Promo


Originally published at https://www.einpresswire.com/article/634398863/irmix-radio-top-20-countdown-week-ending-may-20-2023