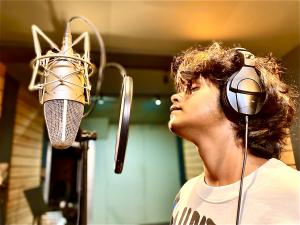 Upamanyu Mukherjee during the vocal recording of the single 'Friend' from his debut album 'Negotiating Oxytocin'
The album captures the depths of emotions Upamanyu has dealt with. He brings really different soundscapes and the originality of his thought comes through his production and design."
— Onkar Tarkase, Producer
PUNE, INDIA, July 28, 2023/EINPresswire.com/ — 16-year-old composer, lyricist, and singer Upamanyu Mukherjee is set to release his debut album, Negotiating Oxytocin, on August 11 through digital music stores worldwide. The album, which has been co-produced by Mukherjee, is placed in the emerging Alternative Pop, Alt Rock and Experimental Pop genres and comprises seven tracks that address a range of subject matter from poignant love to alienation to passion.
"Remarkable songwriting for one so young. It was a pleasure working with Upamanyu on his debut album," says Mastering Engineering Donal Whelan of Hafod Mastering, Wales. Mukherjee's co-producer, Onkar Tarkase, an established sound engineer and producer with 15 years of experience under his belt feels the album reflects the originality of Mukherjee's personality. "The album captures the depths of emotions Upamanyu has dealt with and how those emotions are mapped into melodies and lyrics. He brings really different soundscapes if the songs demand it and the originality of his thought comes through his production and design," Onkar elaborates.
Built around Upamanyu's innovative songwriting and new-age approach to composition and production, the songs are further embellished by his deep baritone vocals. The disarming honesty of the lyrics are well complemented by the earnest and non-conventional vocal delivery, resulting in songs that are likely to strike a chord with listeners searching for alternative perspectives on negotiating matters of the heart. Three of the songs (Friend, Lonely and I Love You) were released as singles in 2022-23 and received support from a spectrum of listeners and positive reviews from digital radio reviewers and play-listers, who praised the young artist for his soulful vocals, and powerful lyrics that convey universal emotions.
Negotiating Oxytocin is distributed worldwide by Horus Music and will be accompanied by an animated music video for the track, 7:55. The album will be available for pre-order from August 3 on Apple Music. Listeners can find Upamanyu's music on more than 150 digital platforms including Spotify, Apple Music, Amazon Music, and YouTube, among others.
For more information:

Website: https://upamanyumukherjee.com

Apple Music: https://music.apple.com/us/artist/upamanyu-mukherjee/1643068825

Spotify: https://open.spotify.com/artist/1lLtcb4EEXG5nSk7CLepRa

Amazon Music: https://music.amazon.in/artists/B0BCTXYYY2/upamanyu-mukherjee

Instagram: https://www.instagram.com/upamanyumukherjeeofficial

Facebook: https://www.facebook.com/iamupaa

YouTube: https://www.youtube.com/@upamanyumukherjee7663
Sanjay Mukherjee
thebengali
[email protected]
Visit us on social media:
Facebook
Twitter
LinkedIn
Instagram
YouTube


Originally published at https://www.einpresswire.com/article/646836763/coming-august-11-upamanyu-mukherjee-s-negotiating-oxytocin-an-altpop-album-of-disarming-digital-age-honesty