IRMIX Radio Top 20 Billboard Countdown for Week Ending June 10 2023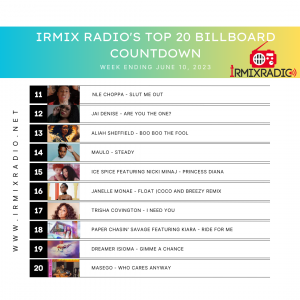 IRMIX Radio Top 20 Billboard Countdown for Week Ending June 10 2023 11 – 20
IRMIX Radio takes pride in contributing to the success of talented artists, while also appreciating the passionate engagement of their dedicated fans."
— Martone
DETROIT, MICHIGAN, UNITED STATES, June 8, 2023/EINPresswire.com/ — IRMIX Radio is making waves in the music industry as it celebrates Pride Month and Black Music Month simultaneously. The radio station is taking the opportunity to honor both legendary entertainers and rising stars who deserve recognition. Among the revered artists being highlighted are Stephanie Mills, Vanessa Williams, and the esteemed Queen of House Music, Barbara Tucker. This tribute showcases the station's commitment to honoring influential figures from the past as well as those making significant contributions to the music industry today.
IRMIX Radio's website has undergone a transformative change, embracing a more comprehensive approach that encompasses not only entertainment but also current events. The station now presents news stories that directly impact the daily lives of its listeners. From in-depth coverage of pressing matters like the debt ceiling and potential 2024 candidates to thought-provoking articles about influential entertainers, IRMIX Radio strives to strike the perfect balance between entertainment and informative content.
Martone, the driving force behind this innovative approach, emphasizes the importance of delivering accurate news to their readers. He firmly believes that staying informed about global events is crucial, and as such, IRMIX Radio has become a trusted news source that provides reliable information to its audience.
In an effort to establish a national presence, IRMIX Radio has taken a significant step by reporting playlists to music tracking agencies. Specializing in RnB, Hip-Hop, and Dance music, the station now accepts song submissions for airplay. However, there is a requirement for eligibility for the coveted IRMIX Radio Top 20 Countdown—the submitted songs must be less than 90 days old. Artists aspiring to be featured in this esteemed countdown must adhere to this guideline and meticulously follow the submission instructions provided. These instructions include providing detailed information such as the artist's name, track name, album name (if applicable), release date, artist social media handles for tagging, and a biography.
In addition to showcasing emerging talent, IRMIX Radio also offers promotional opportunities for independent artists. This commitment to supporting independent musicians allows aspiring talents to explore exciting prospects that can potentially elevate their careers to new heights. By providing a platform for both indie and mainstream music, IRMIX Radio's transformation into the Top 20 Billboard Countdown brings a dynamic blend of chart-topping hits to its listeners.
Now, let's delve into the captivating world of the IRMIX Radio Top 20 Billboard Countdown for the week ending June 10, 2023:
1. Intelligent Diva – I Know You Like Me

2. Omarion – Girls

3. Reckless Rhymacide – We Came to Party

4. Playboii Red – Swim Eat

5. Juan NW – Move Your Body

6. Beyonce Featuring TS Madison – Cozy

7. Miguel – Sure Thing (Brook D'Leau Remix)

8. EO – Banana

9. Nippa – Maddest

10. The Weeknd Featuring Ariana Grande – Die For You

11. NLE Choppa – Slut Me Out

12. Jai Denise – Are You the One?

13. Aliah Sheffield – Boo Boo the Fool

14. Maulo – Steady

15. Ice Spice featuring Nicki Minaj – Princess Diana

16. Janelle Monae – Float (Coco and Breezy Remix)

17. Trisha Covington – I Need You

18. Paper Chasin' Savage featuring Kiara – Ride For Me

19. Dreamer Isioma – Gimme A Chance

20. Masego – Who Cares Anyway
Taking a closer look at the changes on this week's IRMIX Radio Top 20 Billboard Countdown ending June 10, 2023, several noteworthy shifts have occurred. The biggest jump on the countdown belongs to Beyonce and TS Madison with their track "Cozy," which climbed from #17 to #6. Additionally, Miguel has made a significant move, ascending 11 spots to claim the #7 position with the Brook D'Leau Remix of "Sure Thing." Juan NW also enjoyed a notable leap, progressing from #10 to #5 with Move Your Body. As for the top spots, Omarion's "Girls" secured the #2 position, while Intelligent Diva reclaims her throne at the #1 spot with "I Know You Like Me."
IRMIX Radio's commitment to accurate reporting and its dedication to supporting independent artists solidify its position as a go-to destination for music lovers and news enthusiasts alike. Stay connected with IRMIX Radio to stay up to date with the latest chart-toppers, captivating stories, and the vibrant world of music.
IRMIX Radio, LLC
IRMIX Radio
+ 13135408582
email us here
Visit us on social media:
Facebook
Twitter
LinkedIn
Instagram
YouTube
TikTok
IRMIX Radio's Top 20 Billboard Countdown Every Thursday at 12:00 p.m. EST.


Originally published at https://www.einpresswire.com/article/638351769/breaking-irmix-radio-shakes-up-the-music-industry-with-explosive-top-20-countdown-and-bold-news-coverage