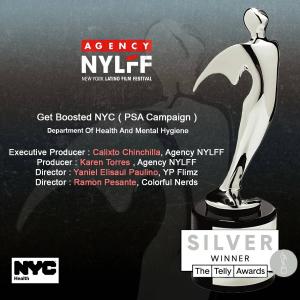 Get Boosted NYC PSA Campaign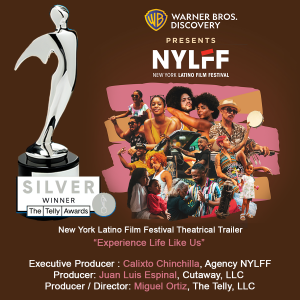 New York Latino Film Festival Theatrical Trailer
NEW YORK, NY, UNITED STATES, June 8, 2023/EINPresswire.com/ — Agency NYLFF, the marketing arm of the New York Latino Film Festival, garnered three (3) awards in this year's 44th Annual Telly Awards for its award-winning content in various categories and formats. The Telly Awards honors excellence in video and television across all screens and is judged by leaders from video platforms, television, streaming networks, production companies and including Adobe, BBC World Service, Netflix, Dow Jones, Complex Networks, Jennifer Garner, A&E Networks, Hearst Media, Nickelodeon, National Geographic Society, ESPN Films, RYOT, Partizan and Vimeo.
AGENCY NYLFF TELLY AWARDS
Building on its previous campaigns to support the vaccination efforts in New York City, Agency NYLFF was awarded a Silver Telly for its 'Get Boosted NYC' PSA Campaign that ran on local New York Television, digital platforms and on television in Puerto Rico and Dominican Republic. NYLFF credits include : Executive Producer: Calixto Chinchilla; Director, Yaniel Paulino; Director, Ramon Pesante; and Producer, Karen Torres.
The second Silver Telly was for its New York Latino Film Festival Theatrical Trailer that ran as a promotional video for the agency's long-running film festival. Credits include: Executive Producer, Calixto Chinchilla, Agency NYLFF; Producer, Juan Luis Espinal, Cutaway, LLC; and Director, Miguel Ortiz, TheTelly.
In addition, Agency NYLFF garnered a Bronze Telly Award for Social Media Promotion for its editorial piece for 'HBO Presents Ian Lara: Romantic Comedy.' The comedy special can now be seen on MAX. Credits include: Executive Producer, Calixto Chinchilla, Agency NYLFF; Executitve Producer, Jessica Vargas, Director, Multicultural Marketing HBO & MAX , and Director / Editor, Nathan Rosario, Agency NYLFF.
"We are incredibly proud to receive this important industry recognition of our multicultural work that aims to amplify the importance of Latino communities, but also the incredible content creators and talent that support meaningful storytelling. Agency NYLFF continues to deepen these connections across the board." – Said Calixto Chinchilla, Founder, Agency NYLFF
"The caliber of the work this season coming from creators such as Agency NYLFF truly has reflected the theme of breaking out and standing out," said Tellys Executive Director Sabrina Dridje. "Our industry is experimenting with new technologies like never before, crafting truly compelling stories to draw attention to some of the world's most pressing issues, and companies big and small are turning to more sustainable practices to break the cycle of past
production processes."
The full list of the 44th Annual Telly Awards winners can be found at www.tellyawards.com/winners.
ABOUT AGENCY NYLFF
Agency NYLFF, the marketing arm of the New York Latino Film Festival, is an Emmy-nominated next-generation, dynamic marketing agency. The agency brings its immense cultural capital and talent from across the entertainment spectrum to produce and curate content/experiences that are vibrant, viral and resonant. Powered by authenticity, Agency NYLFF is a collective of diverse storytellers merging film, social media, and culture to proudly tell the story of New America. For more information, visit www.agencynylff.com.
ABOUT THE TELLY AWARDS
The Telly Awards is the premier award honoring video and television across all screens. Established in 1979, The Telly Awards receives over 12,000 entries from all 50 states and 5 continents. Entrants are judged by The Telly Awards Judging Council—an industry body of over 200 leading experts including advertising agencies, production companies, and major television networks, reflective of the multiscreen industry The Telly Awards celebrates. Partners of The Telly Awards include Green The Bid, SeriesFest, Video Consortium, Ghetto Film School, We Are Parable, Future of Film, NAB, Stash, NYWIFT, Production Hub with support from The Commercial Director's Diversity Program.
###
Rose Mary Cortes
Agency NYLFF
+1 917-634-0340
[email protected]
NYLFF Award-winning Get Boosted NYC PSA Campaign


Originally published at https://www.einpresswire.com/article/638242295/agency-nylff-secures-three-3-awards-in-this-year-s-44th-annual-telly-awards