Children and Teens bring family pets to Pet Success day camps and have fun teaching pets new tricks using clickers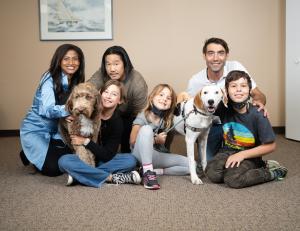 Everyone is Welcome at Pet Success Ottawa located in the Glebe 705 Bank Street & Opening April 19, 2023
Pet Success' Service Pets are trained to be gentle, loving, attentive and calm
Pet Success makes life easy for families, kids and dogs. Kids bring family dogs to Pet Successes Day Camp and have loads of fun together. July 2 – August 31st
Mom, Dad, Children, Teens & Pets! Come to Pet Success Day Camps for exceptional, fun learning experiences together with your pets! Clients without dogs can still come as we have trained service dogs!"
— Allan Morgan
OTTAWA, ONTARIO, CANADA, April 1, 2023/EINPresswire.com/ — Pet Success Launches Innovative One of a Kind Combined Day Camp and Dog Camps with the goal of supporting busy parents, professionals , families and pets as they transition back to the workplace. Available from June 22nd to August 31st, 2023.
Pet Success' Day camp and Dog Camp together for clients whose dogs don't like being left behind and children and teens that enjoy their dogs so much they want them to come to camp. Busy parents returning to work or who want to save money on dog daycare or dog camp, this is Pet Success' GIFT to you. One drop off of kids/teens and pet at one location. VisitPet Success.ca for our many locations.
Moms, Dads, Families – one of a kind Pet Success Day Camp for kids and pets together. Campers and dogs take hikes together, take on agility courses and have new fun adventures together. Yummy Barbecue lunches provided.
Don't have a dog? Pet Success has trained service dogs at camps who will be campers' loyal dog for the week and give campers lots of love and attention at camp. Pet Success offers Dogs attending dog camp/day camp supervised socialization classes with certified dog trainers and leash free runs on Pet Success' fenced in 5 acre dog park.
Pet Success Campers learn advanced training tips and teach dogs tricks with a clicker. So much fun and loads of bonding time proving Pet Success will do anything and everything for families and their beloved pets.
Pet Success puts Families first & Pets first with FUN combined day camps & dog camps. Don't leave family dogs at home this summer. Bring dogs to Pet Success dog camp!
Pet Success' daily shuttles: Pick up and drop off to and from home is available for an extra fee.
Pet Success Day Camp staff: All day camps are led by certified teachers and certified dog trainers.
Pet Success Petting Sessions: Petting a furry pet for twenty (20) minutes a day improves overall health and mental health wellbeing. We have trained service dogs at all Pet Success locations.
Info & Registration: Call 613-710-6688 or email [email protected] to register and save your spot. Visit us to see all of our programs at Pet Success.ca. Pet Success Day Camps/Dog Camps offer Loads of Fun, Laughter and Satisfaction guaranteed.
Allan Morgan
Pet Success.ca
+1 613-710-6688
email us here


Originally published at https://www.einpresswire.com/article/625477502/pet-success-launches-innovative-combined-day-camps-dog-camps-with-trained-service-dogs-at-camp